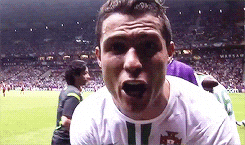 Source Giphy.com
Many Premier League clubs have the spending power to sign unhappy Real Madrid star Cristiano Ronaldo.
That's according to football finance expert Rob Wilson of Sheffield Hallam University.
The superstar is set to quit
Real Madrid
and Spain, with his next move undecided as yet.
On the clubs potentially in the running, Wilson told
BBC Sport
: "Manchester United, Manchester City, Arsenal, Chelsea, Bayern Munich and Juventus would have the financial resources to put together a competitive offer within the realms of Financial Fair Play rules.
"The other side of the question would be whether they would want to commit so much on one player.
"It would be interesting to see what kind of fee Madrid would demand. I would estimate something in the region of £100-120m."