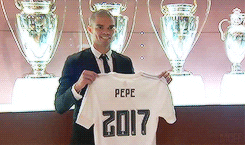 Real Madrid stalwart Pepe has confirmed he is leaving the club after 10 years - but not before aiming a parting shot at manager Zinedine Zidane.
The veteran defender, 34, revealed he has offers from clubs in England while Paris Saint-Germain have been monitoring his situation for some time.
He told Spanish radio station
Cope
: 'I don't want to blame anyone.


Read more: http://www.dailymail.co.uk/sport/football/article-4575346/Pepe-leave-Real-Madrid-summer.html#ixzz4jC2AsZv1